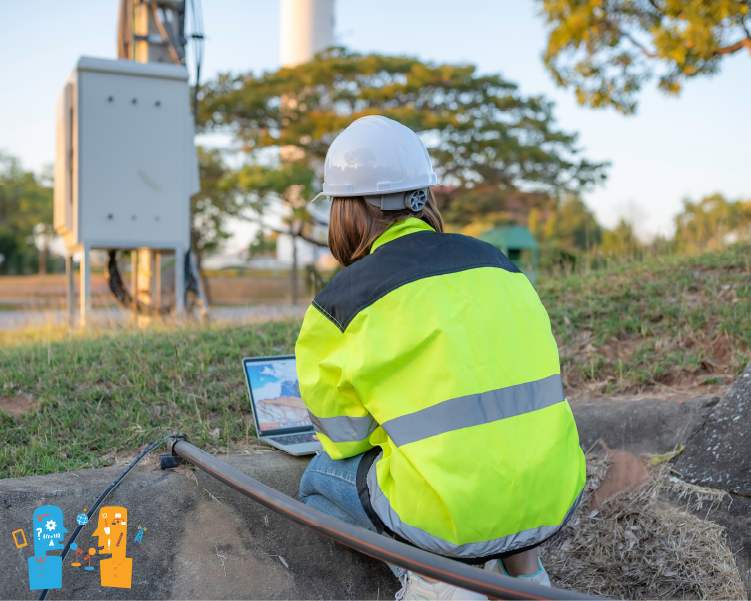 Welcome back to our series on Lifecycle of a Cell Site! Today we are focusing on the Modifications and Maintenance phase of the network. As the 5G guys, we understand that maintaining and modifying a cellular network is a complex, ongoing process that requires significant investment of time, effort, and resources.
During this phase of the process, you'll discover how companies like Vertex specialize in building and maintaining cellular networks, and around 70-80% of their work involves making changes to existing sites, fixing them, and ensuring that they are operating at optimal efficiency.
We discussed how regular tests and inspections must be conducted to ensure that the network is working correctly. This type of maintenance includes testing the antennas and the coax to ensure that there is no damage and that water hasn't gotten into them. It also involves running calibrations on the electronics to make sure they are operating to spec and replacing damaged light bulbs or climbing apparatus.
We also highlighted the importance of ensuring that the site is safe and secure. We discussed how carriers have to follow safety guidelines set by organizations such as the Telecommunications Infrastructure Association (TIA) that require towers to be inspected every three to five years. Inspections include checking for corrosion, damage to the foundation, and inspecting the tension on the wires or the anchor bolts.
In addition to physical maintenance, we discussed how engineers also have to conduct regular drive testing to ensure that the network is working efficiently. They also have to test the enhanced 911 service, which requires carriers to pass on information such as GPS coordinates to the call center when a 911 call is made from a cell phone.
However, even with a reliticily smooth process, some issues on the site can't be planned for. We also touch on the after-the-fact maintenance that is required, such as lightning strikes, vandalism, and copper theft. These issues can take cell sites off the air and require immediate attention to replace damaged equipment.
It's an "all hands on deck" type of situation and maintaining and modifying a cellular network is an ongoing process that requires significant expertise, time, and resources. Thanks for listening! We hope this episode has given our listeners a better understanding of what goes into this crucial phase of the lifecycle of a cell site. Connect with us via the links below!
Connect With Us:
Sponsor Links:
Website:
Social:
Submit Your Ideas or Feedback:
Episode Minute By Minute:
1:27 Welcome back for another episode of the 5G Guys
1:56 Today we're going to talk about modifications and maintenance
3:27 The different flavors of maintenance
5:14 Standard maintenance that comes with any site
6:53 Maintenance on rooftop structures
8:03 Do lightning strikes come into play?
9:47 Vandalism is a big issue too
10:43 The amount of theft of copper is a BIG problem
11:55 What about non physical types of maintenance that needs to happen?
14:34 What really drives non physical maintenance is making adjustments to the network
15:45 Let's talk about the 5G modifications all the different carriers are doing
18:18 A cell site over a period of years is a mishmash of technologies
19:44 What other trades are we seeing get involved in these modifications?
21:27 Now let's talk about system performance
23:10 Here's why a whole lot of Chinese tech is about to be pulled out
24:27 Edge computing being done in modifications
25:32 Rip and replace modifications can also be about business sometimes
26:30 We can't forget, these are live networks we're talking about
28:17 Lets not forget to talk about career opportunities