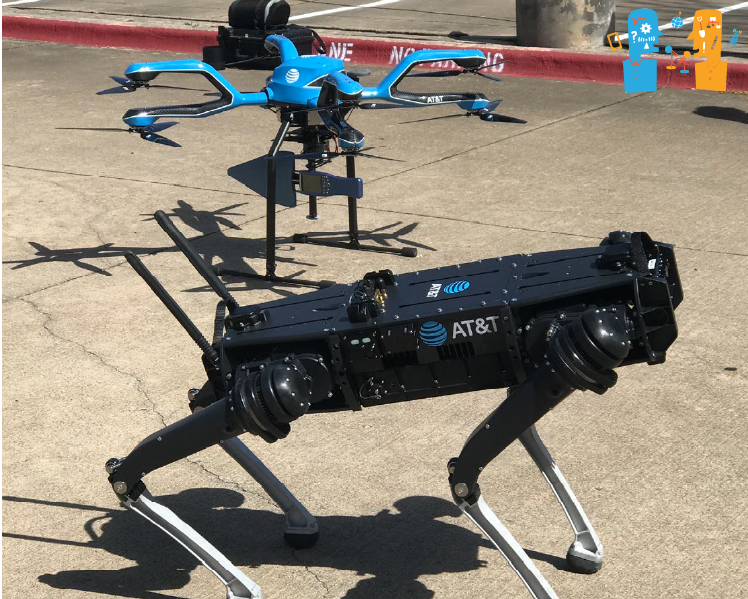 Welcome back to the 5G Guys! Today we're going to talk about some pretty cool technology that AT&T has been working on. You might be familiar with AT&T as your phone or internet provider, but did you know that they've been developing some amazing autonomous systems like robot dogs and flying COWs?
We have Art Pregler, Director of Network Engineering for AT&T, joining us on the podcast to talk about these amazing technologies and how they're changing the game.
Art is responsible for implementing key telecom programs and overseas AT&T's drone program, which includes terrestrial robots and autonomous systems. He explains how AT&T got started in this field, and how they saw an opportunity to provide connectivity to devices like drones and robots. These devices require connectivity to communicate and integrate with each other, and also need a way to provide data back to users on the ground.
Art and his team have developed a robotic dog. These dogs can be used for a variety of purposes, like sensing radiation, chemical and biological substances, and can navigate environments that are too dangerous for humans. They can even be used for search and rescue missions, and can work in tandem with drones to get a better view of the area.
AT&T's technology is not just limited to military applications as you may think. They have started to work with first responders to use the robot dogs for bomb disposal and detection, and even had their technology on display at the Super Bowl. Art also explains how AT&T's patented solution called Geo Cast allows the robots to understand their environment and make decisions on how to navigate it.
It's amazing to see how technology like this is changing the way we approach situations that would be too dangerous for humans. AT&T's autonomous systems are paving the way for a safer and more connected future. Who knows what they'll come up with next? Thanks for joining us today!
Sponsor Links:
Website:
Social:
Submit Your Ideas or Feedback:
Episode Minute By Minute:
0:00 Sneak peak of today's show and introductions
1:45 Get to know Art Pregler and how he got into the industry
3:29 What are terrestrial robots and why are they important?
9:19 Robot dogs, drones and flying cows! (You won't believe these new inventions!)
17:39 Future projects in development currently and trade off with these new applications
21:09 The integration of AI in these new technologies
23:02 Overview of FirstNet and its role in the development of these systems